When you are evaluating properties to purchase, it is essential that you correctly determine the ARV. This is the number that will tell you what the property will potentially be worth to your buyer after repairs and renovations are completed.
ARV
The after-repair value estimate is what you are putting together when calculating ARV. It is a significant number if you follow best practices for data-driven decision-making. Your ARV represents the ideal value of the house considering its neighborhood, age, and condition. Using the right comparables for this estimate is just as crucial for an investor as for a professional appraiser.
Your total expenses between the home purchase and repair cost should never exceed 70% of your calculated ARV
The more recent sales there are in a neighborhood, the easier it is to get an accurate ARV calculation
Buying in a neighborhood that is about to become popular can position you for ideal returns if you can find the secret to predicting those hot spots
It takes practice to dial in your ARV estimating skills, but it is essential to every investor's success.
You need to know that number to help you determine what you are going to be able to sell the property for in its current condition. And the way to see that future or potential value is to use comps in the area. Here are three ways that have been proven to be effective when searching for comps to use to evaluate properties.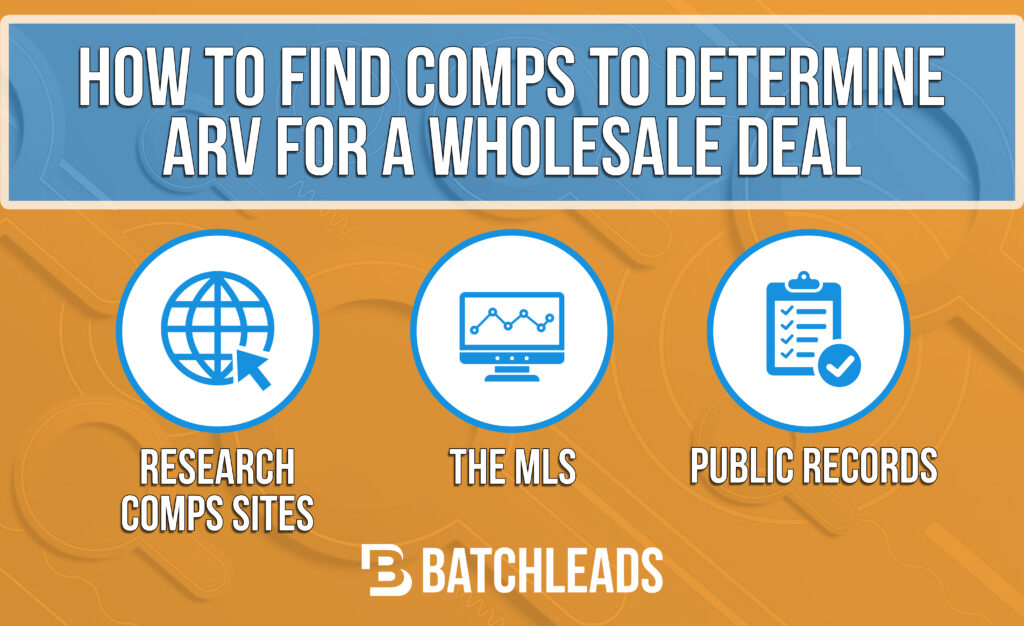 The MLS is a gold mine of information about all properties listed, pending, and recently sold in a specific area. But this information is not available to the general public. It is only for the use of licensed real estate agents. If you have chosen to get your real estate license, you will be able to review comps at any time you choose. If not, you will need to work with a realtor to review a list of comps. And this is where your networking skills come into play.
A realtor is not going to continue to feed you information for free. He or she is not making any money on your deals, so you need to sweeten the deal to get this information. Not every transaction that comes your way is going to work in the wholesaling market. So when you find properties that would be better marketed by a realtor, you need to refer those sellers to the realtor who assists you by proving your comp information. This reciprocal agreement keeps fresh, new deals coming for both you and the realtor who is helping you.
Online real estate information is another reliable way to research comps. Sites like Zillow, Trulia, Redfin, and realtor.com offer a great deal of information about properties that are on the market or have recently sold. And as long as you have Internet access, you can gather this information. Just be sure not to base your entire assessment on the asking price of properties.
Public records are also a reliable resource. You can view recent transactions on the county website to gather pricing information. This will also provide a history of sales for a given property. But it might not include any information on the property's actual condition. If you find that the property had been sold in the past year or two, you can often locate the original listing online to view any included pictures.
There is no perfect process to determine the ARV of a property. But using comps is the best way to estimate the potential value and price that another investor would be willing to pay. The more information that you gather and the more comprehensive your variety of resources, the better your results will be as you perfect your estimating skills.
Key Takeaways
The ARV is an essential estimate of your potential investment's final sale value. The best way to build that estimate is by looking at other homes with similar features recently sold in the neighborhood. The neighborhoods experiencing a demand spike typically yield the best returns. You need the right tools to build those comparable values and research the rising demand neighborhoods to give you the return you want.
Luckily, BatchLeads provides you with a complete map search and property lookup toolkit so you can browse for neighborhoods with increasing home sales, check out distressed properties, or even push further into full neighborhood development. With all the property details at your fingertips every step of the way, it is much easier to make decisions with confidence because data-supported decisions are the ones you have the evidence to place your trust in. That is why they have become the standard for real estate investors.