Real estate investing has developed significantly over the past few years. Investors once relied on manual real estate lead generation efforts and large teams scouring neighborhoods for distressed properties. Now, they can use real estate software that instantly generates lead lists based on nearly any criteria imaginable.
However, all of this technology raises a question: What is the best software for real estate investors?
To answer that question, we've compiled a list of criteria you should consider when choosing software so that you always have trustworthy tools and reliable data at your disposal.
Determine your real estate business needs
Your business needs will determine which real estate platform you should choose. Larger businesses with multiple acquisitions managers will need a solution with calling capabilities, workspaces, and reporting. Smaller businesses may simply need a way to generate real estate leads.
However, there are a few non-negotiables you cannot do business without.
Real estate data you can trust
The most important factor to consider when looking for the best software for real estate investors is the accuracy and reliability of the data you receive.
It doesn't matter what features a platform gives you if the data isn't accurate. But how do you measure accuracy when it comes to real estate data?
First, you need lead data you can trust. If you're looking for lists of pre-foreclosures, you should be able to trust that every property on the list you pull is, in fact, a pre-foreclosure. If you're getting lists that used to be pre-foreclosures but are already sold, you aren't dealing with reliable data.
Secondly, you need accurate comparable sales data or comps. Most real estate lead generation software options don't provide accurate comp data because they have to estimate recent sale prices. But BatchLeads combines MLS data with county assessor and other third-party data sources to bring you the most accurate property info on the market.
Finally, you need skip tracing data you can trust. Every time you search for a record, you're paying for the results. If you can't rely on the accuracy of your data, you're losing more money than you may realize.
You're also hurting your caller ID reputation if you're calling disconnected or wrong numbers all day. Unfortunately, it can be difficult to find reliable data, because most skip tracing services are only accurate 2-18% of the time.
To find skip tracing you can trust, look for a service that only sells Tier-1 data. Otherwise, you're paying for data that was scraped from low-quality web sources that you wouldn't trust if you were searching manually.
Virtual real estate investing tools
Another essential feature of the best software for real estate investors is tools for virtual real estate investing. Virtual real estate investing is the process of generating real estate leads far enough outside your local area that you can't easily visit them in person.
This investing strategy is growing in popularity as the market shifts and certain areas of the country are exploding with potential while other areas are slowing down.
Virtual real estate investing also gives investors a chance to build diversified portfolios. The COVID-19 pandemic illustrated that even the most populated areas of the country aren't immune to sudden population declines. So instead of investing all of their money in one area of the country, investors are diversifying their investments.
When you choose real estate investing software, look for a platform that has tools like map search, virtual driving for dollars, HD property photos, and other features that let you discover properties all over the country, see what they look like, and get familiar with the neighborhood. As you can imagine, you'll want as much information as possible when you invest in a property you can't easily visit.
Virtual driving for dollars puts you on-site no matter how far you are from the property.
A reliable deal analysis module
Even if you're an expert real estate investor, you can never go wrong with tools that make your job easier and make you more accurate. That's why when you're looking for the best software for real estate investors, you need a platform that has a real estate investment analysis module.
A great deal analysis tool will include a comparable properties search, a property value calculator, and access to MLS data so you can get an accurate idea of how much your deal is worth.
These features matter because comping accurately is essential to making money in real estate. In fact, inaccurate comps are one of the top reasons investors lose money on deals. When they use inaccurate data or do the math themselves, they're more likely to get property values wrong and overpay for a house or leave money on the table.
BatchLeads' comping calculator lets investors choose which properties to compare to their deal.
Understand the features and functionality of real estate software
We've discussed a few non-negotiable features and capabilities of the best software for real estate investors, but there are other features you need to grow your business more efficiently.
Detailed property data
Almost all real estate lead generation platforms give you some way to pull lead lists, but very few give you the in-depth data you need to invest confidently.
The best platform for your business will provide a mix of demographic, financial, and property characteristic data that will help you determine how to approach a motivated seller from the start.
For examples of what information you should be looking for, see the screenshot below.
Detailed property insights help real estate investors make informed investing decisions.
Built-in real estate marketing tools
Juggling multiple tools is an efficiency killer. Your business needs one centralized platform that will let you find motivated sellers and then contact them with the click of a few buttons.
BatchLeads offers three marketing tools that make it easy to reach out to motivated sellers: automated direct mail campaigns, a fully-compliant SMS platform, and in-app click-to-dial. With these tools, you can easily launch marketing campaigns without breaking your workflow to switch to a third-party application.
Third-party integrations
Along with quality data and marketing tools, you also need a platform that integrates with other applications so you can effectively manage leads. At the very least, you need a way to integrate with your CRM. Ideally, your real estate software will have a Zapier integration and several third-party integration options if you're using a built-in SMS platform.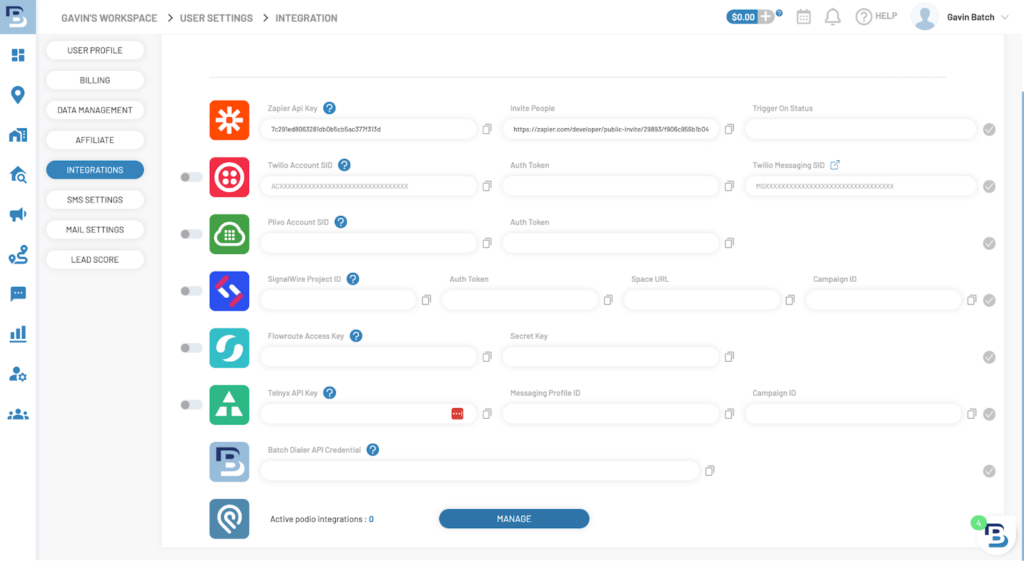 BatchLeads offers multiple integration options so investors can maximize their productivity.
These integrations define the productivity of many real estate businesses. They'll also make it easier to operate at peak efficiency, so it's important to have a real estate platform that offers them.
Scaling your business with real estate software
One of the most important aspects of the best software for real estate investors is how it helps you scale your business. If your software is only useful when it comes to finding leads yourself, it won't help you grow.
Whether you're a one-person wholesale real estate operation or a large real estate holdings company, you need tools that will let you build a productive team. Examples of these tools include:
The ability to assign and track driving for dollars routes
Individualized workspaces so you can assign leads to team members
Robust reporting and dashboard analytics
Dialer integrations that make large-scale calling operations more efficient
CRM integrations for data management
The bottom line is that you need a platform that grows with your business. If you use software that's only designed for individual use or small teams, you'll run into problems as you grow.
Key takeaways
When it comes to finding the best software for real estate investors, there are a few key factors you need to consider.
First, you need data you can trust. Otherwise, you're wasting money and time on low-quality leads. You also need a tool for virtual real estate investing so you can stay agile and expand into new markets before the competition.
It's also important to choose a tool with a powerful deal analysis module. Whether you're new to real estate or you're a seasoned veteran, harnessing the power of property intelligence to analyze deals will help you maximize your ROI and enjoy your work.
Of course, you can't invest without essential features like detailed property insights, marketing tools, and third-party integrations. It's important to choose a platform that has all of these features built-in so you don't have to juggle multiple apps and constantly switch between them to access a tool.
Finally, you need real estate software that's going to work with you for years to come. Whether you plan to build a real estate company or simply run a small business, you need software with scalability. The best software for real estate investors will give you that.
BatchLeads combines all of these must-have features and capabilities in a property intelligence platform that is transforming real estate businesses across the U.S. If you're ready to take your business to the next level, click here to start a free trial and see why over 10,000 real estate businesses trust BatchLeads with their continued growth!
Subscribe to our Newsletter