Real Estate Wholesaler
Wholesaling real estate is unlike any other business model in the industry. Your buyers tend to be better informed than the average investor's key market because your buyers tend to be other investors. On top of that, your suppliers also tend to be other investors. That means you need to be ready to serve their needs, provide a quick closing, and move properties at volume.
You will succeed in the real estate wholesaling market if you can do that. To make the most out of your opportunities, it's a good idea to make a few fundamental changes that will benefit your operation.
How your deal pans out the way you intend depends on how well you execute your strategies. That said, there are a few changes that you can make to your business model in real estate wholesaling to boost your earnings. These are some time-tested tactics that have elicited proven results in helping real estate wholesalers close more deals successfully.
Read on to find out what changes you could make to get more deals. More deals mean more earnings!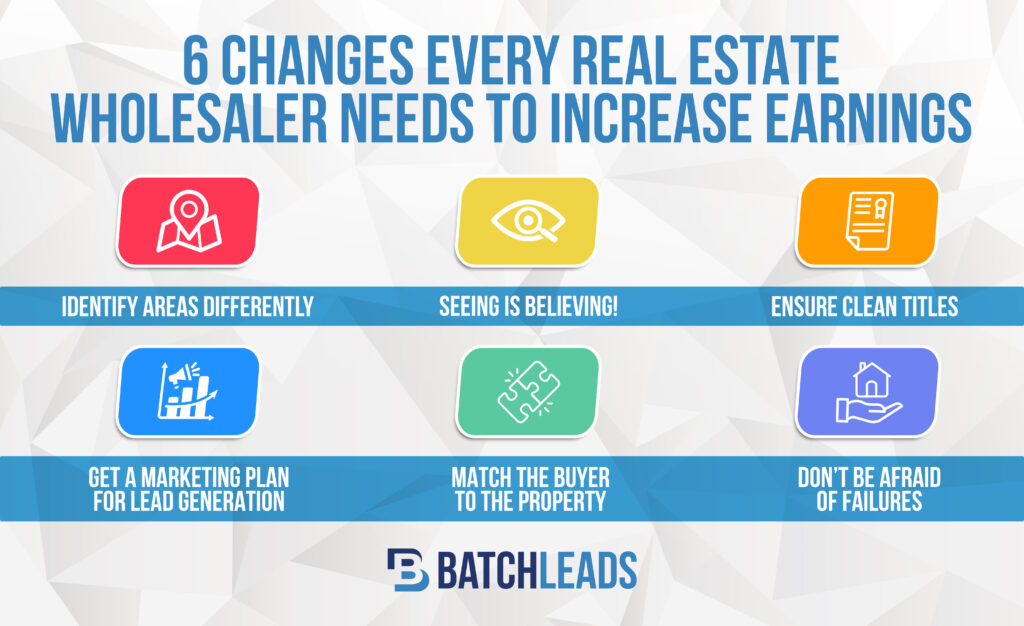 Change 1
Identify areas differently
Mark the area you want to buy and sell in. Try to work in areas where you know investors would be interested. Analyze them well, because a buyer will love as much information as you give him. Prospective buyers are looking for valuable information that would help them after they buy the property.
No harm investing in sites where you could get more neighborhood data. Learning the neighborhood well is a good strategy to farm more deals.
Key takeaway: Find good properties in good areas that are going to be in demand among investors.
Bonus tip: A happy investor will not just buy multiple properties from you but will also brag about his success among his circles.
Change 2
Get a marketing plan for lead generation
Lead generation is imperative and there are no two ways about it. But what you should focus more on when wholesaling in real estate is that you need to have a marketing plan for it.
As a real estate wholesaler, you are looking for motivated sellers and for that, you need to get your presence felt to get calls.
Invest in a marketing strategy that will get you more leads offline or online. There are a lot of systems in the market that can help you get quality leads and the fact of the matter is you cannot do without them.
Key takeaway: Investing in a program that gives you leads is critical to your wholesaling business
Change 3
Seeing is believing!
Investors like retailers need to see the property in and out to be convinced enough to buy it. Rushing up a buyer and not giving him enough time to look around the property could put him off.
Work out times to show the investor around the house or property with the seller. By spacing out the showing time you get ample time to show a pool of buyers and eventually close a deal.
Key takeaway: Having a showing window helps build a rapport with the buyer
Change 4
Match the buyer to the property
No two properties are different, no two buyers are different. What does that mean? Simply put, some properties are better for some buyers while others are not. Some buyers would want to hold on to the property for rehab, while others would want to rent it out.
By identifying the right buyer for a property you eliminate the unwanted discussions that would slow down the deal.
Key takeaway: Identifying the likely end-buyer helps cut a deal quickly.
Change 5
Ensure clean titles
Clean titles are a necessity for a wholesaler to close deals. As a real estate wholesaler, once you locate a distressed property, the first thing you would do is enter into a deal contract. Soon after, get the file opened at a title company that can review the title to ensure there are no issues.
This is an important step when wholesaling in real estate one that should be followed without fail. If there are issues, then the company can get it cleared as soon as possible and give you a timeline of when the deal can be closed.
Key Takeaway: Clean titles help close deals faster, so no harm tying up with a company that can guide you through
Change 6
Don't be afraid of failures
Make offers, don't be afraid of hearing a no. If you are expecting the offers to come by sitting on the sidelines then believe me you are mistaken.
Reality check! Make at least 50 offers a week. Follow that as a ritual and surely as you go, expect to crack 5 a week. Make offers at the right price if you want to close a great deal.
Key takeaway: Don't be shy of making offers but make ones that are justifiable.
Wholesale real estate is the best way to break into the real estate industry provided you know when and where to switch gears and tweak strategies to pocket profits. There are buyers in abundance provided you know where to look for them. So keep your ears and eyes open and make sure you are visible in the market if you want to crack more deals.
Benefits of Changes
Making all these changes together works to supercharge their effects. As a result, you will see enhanced benefits when you follow through with all six changes to your process. Even if you can't put them all in place at once, you're still going to see some results from each one as you make changes to the way you do business.
Buyers will be more interested in working with you because your properties will be better tailored to their needs
Pursuing deals in high demand neighborhoods makes you the wholesaler that new buyers want to seek out, so you get increased referrals and more significant benefits from your online marketing
Building your communications around specific information about each property ensures you are giving buyers what they want
Working lead lists made up of motivated sellers provides you with an ongoing flow of properties to meet market demand
Willingness to take risks pays off even when it does not close a deal on a property because you make an impression on the investors who will be your buyers and sellers in the future
Wholesaling is all about efficiency. Use tools like BatchLeads to find and work property leads in higher quantities, then craft your outreach as you work your market to match buyers carefully to properties. It's just a matter of putting the work in when your tools make it easy to handle the whole process in one place. Remember, high volume lead work creates your high deal volumes, driving your income.