As a real estate wholesaler, your job is to find properties to buy at below-market prices. But knowing what kind of property to look for isn't always easy, since there are multiple factors that determine whether or not a wholesale real estate deal is a good investment.
To help you make the most of your time and maximize your ROI, here are the top five characteristics of a profitable distressed property deal.
What is a distressed property?
A distressed property is any parcel of land that the owner cannot afford to maintain or continue paying for. A distressed property may be in pre-foreclosure or it may simply be run down and in general disrepair.
Distressed properties are owned by motivated sellers, or people who are experiencing a situation that is pressuring them to sell. Usually, these situations are the result of some financial burden or personal development that has caused financial strain.
Other times, properties become distressed because the owner no longer has an interest in maintaining them. In this case, the owner would like to list the property but doesn't have the capital or the ability to repair it or list it with an agent.
Whatever situation a property is in, some distressed properties make better investments than others.
Properties under financial distress
When you start wondering how to find distressed properties and motivated sellers, the first thing you should identify is properties under financial distress.
Properties that are considered under financial distress are pre-foreclosures, foreclosures, inherited, vacant, and tax defaults. These are great deals for a few reasons. 
First, they aren't considered distressed based on damage to the house or other structures on the property. This means you'll likely earn a higher assignment fee when you sell to a cash buyer, because they won't have many repairs to tackle.
Second, you can usually buy these properties at a deep discount, because the owner has financial problems that they need to resolve. They don't have the luxury of waiting to list, showing the house, negotiating, and then waiting to close. They need to close fast.
While these properties can have repair needs that reduce what a cash buyer is willing to pay for the house, you won't usually have to worry about that on these kinds of deals. You're much more likely to find a sell-ready home targeting these properties than you will with fire-damaged homes, abandoned and vacant properties, and condemned houses.
High equity properties
You should also focus on properties where the owner has high equity in the home. Equity is defined by the amount of a property the owner owns. This number is based on how much of the mortgage they've paid off.
You can usually buy high-equity properties at a significantly lower purchase price because a high percentage of their mortgage is paid off. The owner will likely need less money to fix their financial situation, like paying off the remaining mortgage to avoid foreclosure.
Inheritances are another situation where you are likely to benefit from a high-equity deal. This is especially relevant if you find inherited properties where the mortgage cannot be paid off without selling the house. Many new owners are interested in clearing the debt as quickly as possible, so they aren't interested in taking the time to sell for market-value.
If you can find a recently inherited property with high equity, you can offer to buy the property fast at a reduced price that will pay off the mortgage and take the problem property off of the owner's hands.
Buy homes from tired landlords
Tired landlords are investors who have owned properties for more than 10 years and are tired of the stresses of owning rentals. There are two main reasons you may want to buy from a tired landlord.
First, you can usually expect to buy a property without serious repair and renovation needs. This means that finding a cash buyer will be much easier. While you can expect to pay more for the house in this scenario, finding a cash buyer in your market will be significantly easier.
Second, you can find some great deals if you're buying from a landlord who has grown tired of fixing damage and making repairs to their rental properties. In this case, you'll get a great deal in exchange for a house that needs repairs.
When dealing with tired landlords, you may often catch someone who is in the middle of calculating the costs of a pricey repair after their last tenant moved out. If you can catch landlords in this process, you may lock down a great deal as they are ready to move on and recoup their initial investment.
Third, you may find several deals with this strategy. Most landlords who have owned property for long enough to qualify as a tired landlord own multiple properties. If you find someone who is downsizing their portfolio or just wants to sell off their properties and leave the rental market, you may find yourself with great deals on multiple houses.
BatchLeads makes this easier with its portfolio view, which will show you all of the properties a motivated seller owns.
Buy fire-damaged homes
While we mentioned a few reasons not to buy fire-damaged homes when you wholesale real estate, they can create more opportunities than any other distress factor if you buy them strategically.
Fire-damaged homes are rarely ever listed on the MLS. In fact, because of their damage, they usually go for incredibly low purchase prices and only investors with a lot of capital on handhave any reason to buy them. While this might seem to make fire-damaged homes terrible investments, many cash buyers will pay you a nice assignment fee just for finding them and negotiating the sale price.
This alone makes buying fire-damaged homes an investment strategy worth considering, but they are also very easy to find and evaluate. Whether you're driving for dollars, using a lead generation platform, or asking your local fire department for leads, you'll usually know a fire-damaged home as soon as you see it. Unlike other types of distress factors, you can easily determine the extent of needed repairs and other factors that affect the after repair value simply by driving by the house.
Find homes in active markets
The final property characteristic that matters when you wonder how to find distressed properties is local real estate market activity. Are homes going for good prices? Are there are lot of cash buyers in the area?
This one might seem out of your control, but with the right tools, you can wholesale virtually so that you're always working in active markets.
Virtual wholesaling is the practice of using real estate lead generation software to expand your operation into far-away markets. Modern property technology breaks the boundaries that once limited real estate investors to markets they could drive to. With tools like BatchLeads' new driving for dollars suite, you can even drive for dollars virtually, using street view to canvass neighborhoods from anywhere, even if you're thousands of miles away.
With these tools, you can combine all the characteristics of a great distressed property and then find matching wholesale real estate deals in hot markets. This strategy is by far the best way to maximize your profits if your local area isn't thriving.
How to find distressed properties
There are several ways to find distressed properties, but the fastest way is to use real estate lead generation software like BatchLeads. With BatchLeads, you can quickly create lists of distressed properties based on any distress factor you want. You can even combine multiple distress factors to create niche, personalized lists.
By combining search options, you can identify properties that have multiple distress factors and are even more likely to sell than properties with just one.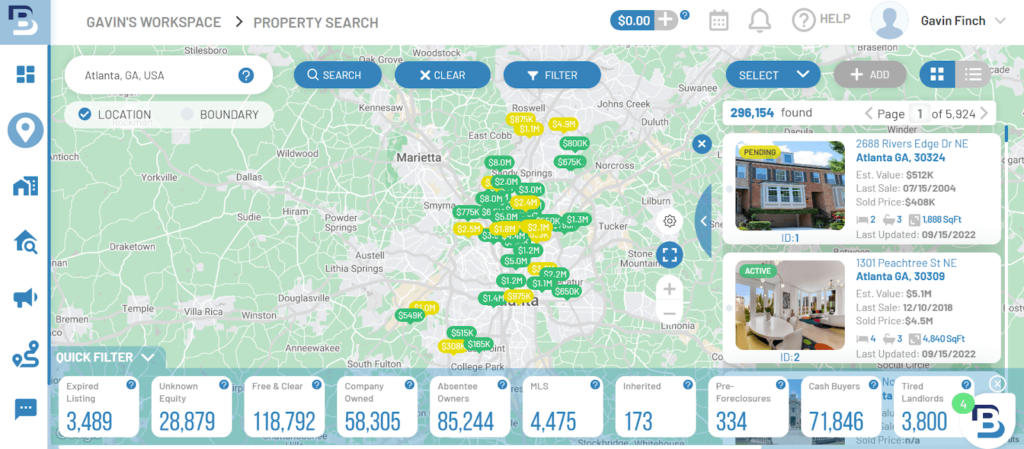 Key takeaways
When you set out to find distressed properties, you shouldn't always look for run-down buildings with overgrown grass and broken windows. Sometimes the best deals come from financial distress factors that you can't see with your eyes. The best way to find these properties is with the right real estate lead generation software.
Of course, some of the best wholesale real estate deals you'll ever find are from damaged and run-down properties. Don't worry too much about avoiding properties that need repairs, because that attitude can make you pass up a lot of great opportunities. While properties that need repairs are much easier to see, you can also rely on real estate lead generation software to find them more easily.
While there are several characteristics to consider when wondering how to find distressed properties, the most important one to remember is how easily you can sell a property to a cash buyer. After all, you make money from assigning contracts, not closing deals. If you keep that in mind, distinguishing between profitable deals and wastes of time will become easy.
Subscribe to our Newsletter